Hello from beautiful Montana:
This morning (at 6am!) I am speaking on a radio show for parents in New York.  As I was preparing (opening my eyes) I remembered a quiz I had prepared for a parenting class last year.  Hope you enjoy it. If you know most of the answers, you are a Super Saver and a wise steward over your money.
If you receive a credit card in the mail, it means that you automatically qualify?
When your child is small, it is necessary to have high top shoes so they can have strong ankles?
All foods are cheaper when they are made from scratch?
Try to shop on the perimeter of the store and avoid the inner aisles as much as possible.
Using coupons to buy products mean you will always get the best deal?
How do you stop your child from asking for candy, gum and toys when you take them shopping?
You always save more if you wait till you get to the store to see what is on sale?
When is the best time to go thrift store shopping?
When is best time to buy school supplies?
Is it  necessary to have meat at every meal?
If you have a money crisis, which bills do you pay first?
Answers:
No, it is a promotional gimmick and they still have to check your credit. You are not guaranteed the rate.
No, it is not necessary and in fact, it is better for them to walk barefoot or in little socks when they are learning to walk.
Not always, but generally.  Good examples of foods that are more expensive from scratch are orange juice and cakes.
True, the fresh fruit, vegetables, meat, dairy and bread products are usually on the outer edges.  The more prepared and packaged foot tends to be in the middle.
Many coupons are for products you would not ordinary use. Check the store brand.  It may be cheaper than the other with a coupon.  Ask the store if they will honor other store's coupons.
Don't take them shopping with you.  Pre-warn them that they may have an apple or bring along a toy from home.
You will always spend more! The longer you stay in the store, the more you will spend.  Bring your list, buy what is on it and get out.
Saturday evening, Sunday or Monday.  People bring in everything that has not sold from their garage sale.
Buy school supplies in August and store them for use all year.
Actually you will be healthier if you have two or three meatless meals in a week.
Always pay your housing first.  Keep a roof over your head. There are agencies to help with food and heating but you need shelter.
Spend twice as much time and half as much money on your child and you will all be happier.
Thank you for sharing time with us today,
Judy Helm Wright aka Auntie Artichoke, family relationship author and keynote speaker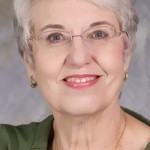 There are only two ways to get more money: 1) Increase your income 2)Decrease your outgo.
PS: If you are concerned about your child making friends, check out http://www.TheLeftOutChild.com
PSS:  If you are concerned about child behavior issues, check out http://www.DisciplineYesPunishNo.com
You will be so glad you did.